Interesting facts about Ehlanzeni TVET College campuses
Have you ever wondered what is happening at TVET College Campuses? Which courses they offer and if there's social life for students at TVET colleges?
We are taking you through Ehlazeni TVET College as one of the best TVET Colleges in South Africa. It is located in Mpumalanga, South Africa, in the Ehlanzeni region. Furthermore, the TVET College consists of eight sites which consist of seven campuses and the central offices. We find the campuses in Mbombela, Bushbuckridge, Thaba Cheu, and Nkomazi local Municipalities. Therefore, in each and every local municipality, you will find one or more Ehlanzeni TVET College campuses.
They offer career guidance to students who enrol with them on Civil Engineering and Construction, Electrical Infrastructure Construction, Engineering & Related Design, and etc. By doing so, they prepare their students for the life after college.
What is different about Ehlanzeni TVET College?
As time advances as well as technology, the college has however introduced an e-learning programme to accommodate everyone. Equally important, Ehlanzeni TVET College is going extra miles to assist their students at all campuses to apply for NSFAS online registration.
What is interesting about the campuses?
Students at all campuses are offered opportunities to enjoy and live their social life. Ehlanzeni TVET College has set out activities whereby students participate. If you are a sports person, you will enjoy playing with your fellow schoolmates.
It does not matter if you are an artist. Whether you enjoy singing or playing drama, there's something for anyone on the campus. Take into consideration that the college is further offering students counselling, wellness support, and guidance.
Get to know more about Ehlanzeni TVET College Campuses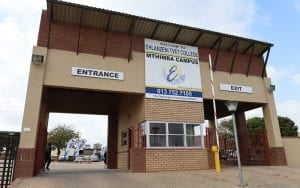 The campus offer courses in Engineering including Electrical, Mechanical, and Civil Engineering from N4-N6. They furthermore offer some courses at the introductory levels such as Business Studies and Hospitality from also N4-N6.
One thing that is interesting about this campus is that it is located close to the Kruger National Park and Drakensberg Mountains. As a result, this allows students to distress once in a while by going to see these attractive places.
We look at the campus that is based on the lush, green, sub-tropical farming in Mpumalanga. It is also at the bordering of the Kruger National Park, so it can only mean the campus is good for distress.
However, we also look at the courses you find on the campus, and that are Engineering Fundamental, Engineering Technology, Engineering Systems, Automotive Repair & Maintenance, Fitting & Turning, Engineering Fabrication, and Welding.
This campus has recently been established in 2007 with only nine students and all of them graduated in 2009. Looking at where the campus started, today the campus has more than 1500 full-time and part-time students. Based in the middle of De Kaap Vally and the borders by the Makhonjwa Mountains, it is the past of the mountains that makes it more appealing.
In fact, the mountains there are amongst the oldest in the world. So, this shows that the area the campus is based on has more interesting facts in our South African history. When we are looking at their courses, it started with only NC (V) Level 2 of the Generic Management programme. Today, the campus offers courses in the Engineering and Business studies sections.
Four campuses merged to form the Ehlanzeni TVET College in Mbombela as a region. Nelspruit campus is merged together with Mlumati, Kanyamazane, and Mthimba. With the campus being close to Kruger National Park which was South Africa's first national park in 1926, this gives students the opportunity to learn more about our history.
Furthermore, the campus started as the Nelspruit Technical College offering only Business Studies as a course with approximately 300 students. However, the campus had to increase the number of lecture rooms after introducing Engineering Studies which resulted in the campus accommodating 1640 students.
In conclusion, Ehlanzeni TVET College cares about their students and their life, thus, making sure that they take care of their campuses first. They have newly painted and renovated their campuses as well as increasing their computer rooms. Apply for online admission and join thousands of students who have chosen this prestigious TVET college.